Written by Jeroen Verel at 2012-08-08 15:19:08
Album Reviews :: In This Moment – Blood
Band: In This Moment – Blood
Label: Century Media
Release: August 13, 2012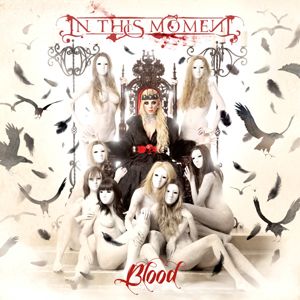 Line-up:
Maria Brink – Vocals
Chris Howorth – Lead Guitar
Travis Johnson – Bass
Randy Weitzel – Guitar
Tom Hane – Drums


The album:

In This Moment used to be a metal-core band and were possibly best known for the looks of their vocalist Maria Brink. Other than that they sounded pretty much like female fronted metal-core bands are expected to sound, which wasn't very interesting to people who aren't fans of that genre.
Two years ago In This Moment released 'A Star-Crossed Wasteland'. The band somewhat changed their sound and, even though they still didn't break out of the genre they were known for, there were clearly some influences from different types of metal to be heard on that record.
'A Star-Crossed Wasteland' was In This Moment's first record that was interesting to me personally. I still listen to tracks like "The Gunshow" every now and then.
Now In This Moment are about to release their latest studio-album called 'Blood'.
Will 'Blood' be one more step in this band's evolution or will they stick to the formula that brought them a relatively successful career?

After a calm intro-track called "Rise With Me" I am happily surprised when I hear the title-track "Blood". It is pretty clear that In This Moment did not stop evolving their music. The metal-core sound they were known for is gone. What we get here is heavy alternative metal with a little bit of an industrial influenced sound every now and then. A change in sound like this is a gutsy move, but in a positive way. The sound of "Blood" is heavy, aggressive and brutal with hints of beauty and in a way that the music can be accessible to people who might not have been interested in In This Moment's earlier works. Listening to tracks like "Adrenalize", "Whore", "You're Gonna' Listen" and "Beast Within" really makes you realize how different and varied "Blood" actually is compared to In This Moments earlier studio-albums.
This doesn't mean that fans of their earlier work will not like this record. There are still influences of their earlier work to be found on this record. "Comanche" is one of those tracks that still has that older In This Moment sound to it while some of the vocals on "From The Ashes" might take you back a bit to 'A Star-Crossed Wasteland'. It's still In This Moment but 'Blood' is much more varied and more accessible music-wise.
Like the music, Maria's vocals have also gotten much better. This was already the case on 'A Star-Crossed Wasteland', where some tracks had clean vocals that showed that Maria is much more than a pretty girl with a big mouth.
When you listen to 'Blood' you'll hear even more and better clean vocals. Also Maria's screams and grunts sound better than they have before. The vocals, like the music, are way more varied than on the band's previous records.

Conclusion:

With 'Blood' In This Moment delivers a record which is clearly a big step in the evolution of this band. Music-wise 'Blood' is a huge improvement over 'A Star-Crossed Wasteland'.
Purists will probably criticize the change in their sound, but I think that it's a positive change for the band. With the release of 'Blood, ' In This Moment will be breaking out of the metal-core genre and open up to a much wider audience. 'Blood' is proof that In This Moment has grown… a lot.

Tracklist:
1. Rise With Me
2. Blood
3. Adrenalize
4. Whore
5. You're Gonna' Listen
6. It Is Written
7. Burn
8. Scarlet
9. Aries
10. From The Ashes
11. Beast Within
12. Comanche
13. The Blood Legion
14. 11:11

Links: