Geschreven door Jessica Santiago Lopez op 2017-01-30 11:43:46
Album Reviews :: Kingfisher Sky - To Turn The Tables
Band: Kingfisher Sky - To Turn The Tables
Label: Suburban Records, Tonefloat, Laser's Edge & Disk Union
Release: 27 januari 2017
Review geschreven door Rien de Graaf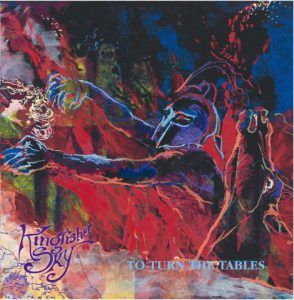 Line-up:
Judith Rijnveld - Singer
Ivar de Graaf - Drums
Edo van de Kolk - Guitar
Chris Henny - Guitar
Maaike Peterse - Cello
Nick Verschoor - Bass guitar
Erik van Ittersum - Keys
Het album:
Kingfisher Sky is een female fronted prog rock band die al een aantal jaren mee doet binnen de muziekwereld. Het is een tijdje wat stil geweest rondom de band, maar nu verschijnt er dan eindelijk nieuw materiaal. Een EP met welgeteld 1 track. Het is wel direct een 10 minuten durend nummer.
De track opent geheel zoals we van de band gewend zijn, spannend en wat mysterieus. Zodra de vocalen worden ingezet wordt duidelijk dat de band (gelukkig) niet voor een geheel nieuw geluid heeft gekozen.
De band weet in dit 10 minuut-durende stuk een perfecte mix te vinden tussen oude nummers en de wat recentere en dan toch óók nog eens nieuwe elementen toe te voegen; elementen uit tracks als "Hallway Of Dreams" (2007), "My Better Part" en "Rise From The Flames" (2010) om enkelen te noemen. Kingfisher Sky laat met deze EP horen hoe zij het eigen geluid behouden en nieuwe dingen proberen. Een ontzettend fijne schijf die in je CD collectie thuis hoort.
Conclusie:
Met 'To Turn The Tables' laat de band op een uiterst positieve manier weer van zich horen. Alles wat Kingfisher Sky kenmerkt is verpakt in een 10 minuten durend episch avontuur. De productie is – zoals we gewend zijn – perfect gedaan door Joost van den Broek. Ook zijn er op de EP nog enkele gastmuzikanten te horen; Kristoffer Gildenlow (o.a. Pain Of Salvation) op fretloze bas en violist Ludo de Goeje. Wanneer je de band al vanaf het begin volgt is deze plaat een feest der herkenning en toch krijg je nieuwe dingen voorgescholteld. Mocht je dit gezelschap nog niet kennen dan is deze schijf dé gelegenheid om ze wél te leren kennen. Aanrader dus!
Tracklist:
1. To Turn The Tables
Links: