Geschreven door Jessica Santiago Lopez op 2014-05-04 01:13:30
Interviews :: Interview met Xandria
Op zondag 30 maart staat de Duitse band Xandria in de Mezz in Breda, als support van Delain. De band brengt in 2014 een nieuw album uit, dus het leek ons een goed moment voor een interview. Voor de show in de Mezz ontmoet ik Philip en Steven van Xandria. Het interview is hieronder te lezen.

Interview door Tasmara van Loon.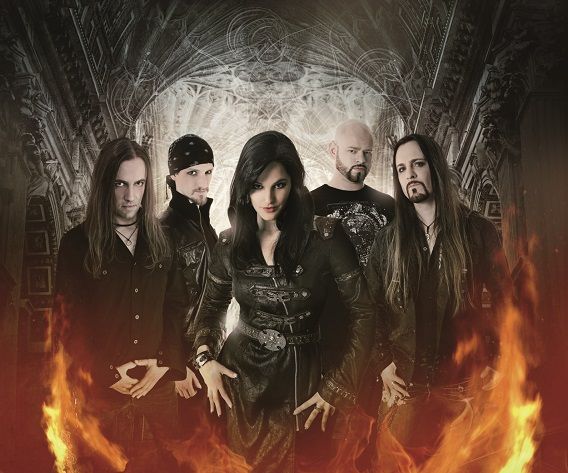 Thank you guys for taking the time to do this interview.
Q: You'll start touring soon, a lot of shows to come. What do you like most about being on tour?

Philip: Everything about it. You get to love the challenges of clubs, traveling and delivering a good show. You also get to appreciate good clubs with nice facilities.

Steven: The traveling. Getting to see different countries. It's a gift to see and meet so many people.

Q: What has been the audience that has left the most impression on you until now?

Philip: Every country and every audience has its own specialities. Everyone has their own favourites. For me it's South America, because of the warm, welcoming people etc.
Steven: For me it's South America as well, especially Brazil because I lived there.
It's very easy to play there. You're a 100% sure it's an awesome show. Smaller crowds are normally not enthusiastic, but there they truly are. It's easier to play for bigger audiences. People go more crazy in bigger crowds than they so in smaller crowds.

Q: How did Dianne meet Xandria?

Philip & Steven: Through Joost van den Broek. We were working on the new album with him and he recommended her to us when we had to face the fact that Manuela was leaving the band. So we didn't have a big search for a new vocalist, it was only one person we got recommended, we rehearsed with her and it turned out to be a perfect match.

Q: How does Dianne combine Ex Libris with Xandria (both have a new cd)?

Philip & Steven: She's doing a hell of a job. She had to study the old Xandria songs and new songs. And for Ex Libris as well. She had a tough job, because she is a singing teacher as well. So she used her voice a lot.

Q: How do you get the chance to rehearse? Since living in different countries must make it a little hard at times.

Philip & Steven: We are scattered through Germany as well, so there is a lot of distance to cover. We plan weekends for rehearsals. Rehearse as much as possible in one weekend. Everyone prepares at home as much as they can.

Q: The release of "Sacrificium" is coming soon. What are you looking forward too?

Philip: I want to play the new songs live. I want people to love it.

Steven: I'm nervous how people will react. It's the first album with the new line up. A lot of heart, blood and sweat went into it.

Q: What influenced the songs on the new album?

Philip & Steven: The title was thinking about the idea of people willing to sacrifice for the greater good. What would we do in those kinds of situations. It's inspired on recent events on the news, like demonstrations for freedom etc.
Musically, we wanted to continue what we started on the previous album. Strong melodies, heavier, with a stronger focus on our instruments, guitars and drums so that they're more fun to play. A more cinematic soundscape as well.
Q: Did Dianne join in song writing straight away? Or was the new album already finished before she joined?

Philip & Steven: A lot of the material was there, but lyric wise she contributed a lot.
Especially the songs "Little Red Relish" and "Sweet Atonement" feature her as a composer as well.

Q: You've been working on a Xandria street team. How's that coming along?

Philip & Steven: A hardcore fan came to us with the idea. So we started working on this idea. We're collecting people that are interested in the band and want to support us. What struck us most is that a lot of people form the USA are wanting to join. We're going over there in the fall again with Delain and Sonata Arctica. It's amazing how you feel already welcome in a country you've only been twice.

Q: Do you have a message for our readers?

Thank you for reading this far. You have to buy our new album, because it's awesome. I feel grateful I did an interview with someone from the Netherlands that will put it online, that people are interested in us. We really appreciate it. We're thankful for everyone coming to our shows. Buying our merchandise. There is much more to come in 2014-2015.