Geschreven door Jessica Santiago Lopez op 2014-05-10 20:47:55
Interviews :: Interview met Black Stone Cherry
Afgelopen 3 maart stond de Amerikaanse band Black Stone Cherry nog in Nederland, waar ze een zeer vette show neer hebben gezet in Tivoli Oudegracht (Review en foto's van de show zijn hier te vinden). Het duurde op dat moment nog eventjes voordat het nieuwe album 'Magic Mountain' uit zou komen, want het album is pas op 2 mei eindelijk gereleased. Metalkrant sprak gitarist Ben Wells en drummer John Fred Young toen wel alvast over o.a. 'Magic Mountain' en het interview kun je nu dan hieronder lezen. (Review 'Magic Mountain' staat hier)
Interview door Jessica Santiago Lopez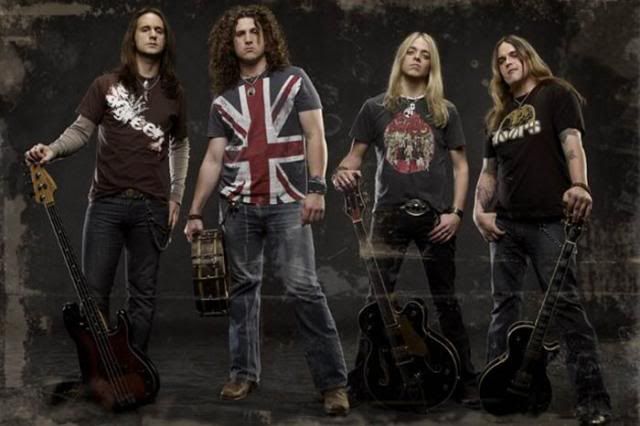 Q: Welcome back to the Netherlands! How are you guys doing?
Ben: We're doing great, thank you. It's good!

Q: You've just had a couple of shows in the UK…
Ben: We had 4 shows over there.

Q: I've heard from people who went to those shows that you've played some new songs as well. How did the crowd react to them?
John: Great
Ben: Yeah, really good. They were singing along with the single, which is good. So yeah, it went really well.
Q: So the new record 'Magic Mountain' is coming in May. Still a bit far away, but can you tell us a bit more about what the record is all about?
Ben: This is a very raw album. By that I mean that it's stripped back, it's intense and it's very live sounding. We wanted to capture that live essence on this album and not make it too over produced or make it sound like something artificial you know. So it sounds really…it's heavy and it's just cool and it's good. The album has a great atmosphere about it.
Q: Yes, I've been lucky enough to have heard it already and it sounds great. The guitars…it just overall really sounds more raw compared to previous records.
Ben: Thank you.
John: Because they're real guitars!
Ben: And we recorded it all to mixtape, so everything was on analog this time. So the sound is a little bit different, because it's the first time we've done that.
Q: What would you say is the biggest difference between 'Magic Mountain and the previous 'Between the Devil and the Deep Blue Sea'?
Ben: Mainly that we weren't chasing after any goal or sound for radio, you know. The biggest difference is that everything on this album is played by us. There are no artificial sounds. The little percussion and noises you hear…We really tapped on a metal lamp shade one time to get a sound, so everything is very organic. I think that's the biggest difference. It's just two guitars, bass and drums. It's not stacked up and it's not multi-layered, it's just very raw.
Q: I've also read that you guys had more freedom to create the record this time. What kind of impact did that have on the whole creation process?
Ben: Well we were left alone to create this songs. We have a new A&R guys and he really, he's known the band for a long time and he said "just go and write, you know what you want to sound like, so go and write". So we did and that is where the freedom came in. We weren't pressured into writing a song like this or like that, it was just like…just turn the songs in, you know.
John: We would always have people pushing us from the label in a different direction, like "oh you need to this and do that". Finally, with the merge of Roadrunner into Atlantic, which Atlantic being under Warner, and working with this new A&R guy that has known us for a long time…he just let us do what we do. And working with Joe Barresi, our producer on this record, it was incredible because the guy is so smart and just so about the music. It was just the first time that we've made an album were the band really got to do what we wanted to do. It was great and it was a great experience working with Joe. We're so proud of this record.
Q: Where there any particular challenges during the creation or recording process this time?
John: We were talking earlier about that when you play live, you want to picture yourself, we've kind of always said this in the practice house…We imagine writing songs for big, open concerts. Watching people, like their energy. Or, if it's like tonight, the smaller, sweaty rock clubs. We want to write this parts and in our minds we go, that's going to be insane. And if it doesn't measure up to that part, we just write another part. It just has to be good. We set very high standards for the writing and the musicianship of the band.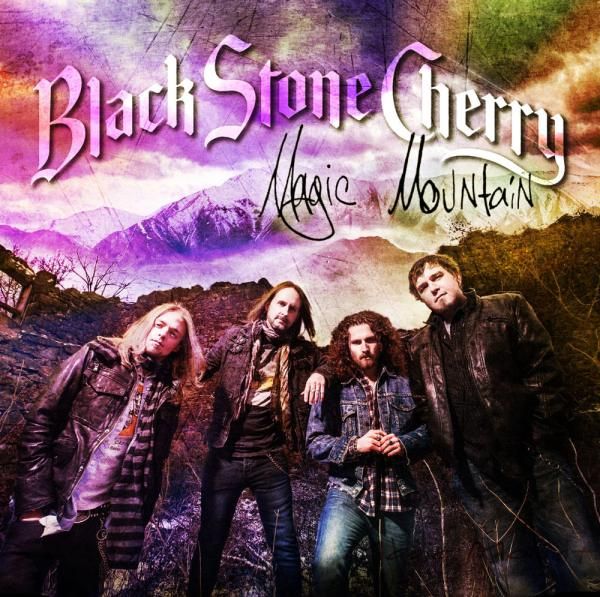 Q: Before going in to the writing and recording process, did you guys had a particular vision for how this record should turn out and did it turn out like you had expected it?
Ben: It turned out better than we expected, because Joe is a great producer. The only vision we had…we were just a little more confident with what we knew what we wanted the songs to be like, you know. We knew we wanted to bring more riff oriented songs and have over the top drum rolls, John do some cool bass lines…that was the only vision we really had. We wanted to make this an awesome album that was just full of cool stuff. We were just a little more confident this time.
Q: So a bit more about the songs itself. I've got a couple of favorites already, like "Never Surrender" "Bad Luck & Hard Love" and "Holding On…To Letting Go" (great way to start the record!)
If you have to pick two tracks of the record, which ones would you say are your favorite and can you tell a bit more about those songs?
Ben: It's really hard, because I personally don't have a favorite yet, they're all my favorite because it's all still really, really new. So I can't pick a favorite just yet, because each one, every time I hear it I go, that's great! So, they're all just really new and exciting. Once we start playing these songs some more live, I will probably have one or two that will probably lean more towards my favorite, but right now it's still hard to say.
John: yeah.
Q: 'Magic Mountain' is your fourth full length record. Looking back on al 4 releases, what's been the biggest learning point for you guys when it comes to creating and releasing music?
John: Just trying to make the best that you possibly can you know.
Ben: We learn something each time that we work an album. Mainly just be confident and not be persuaded. You always have to go with an end goal and try to shoot over that goal, so it comes even better. I think for us, as long as we can pick up a couple of studio tricks here and there and figure out what works for us in the studio, that's what is going to benefit us in the long run.
Q: So, besides the release of the new record, what else does 2014 have in store for BSC?
Ben: Touring.
John: Yeah, tour and tour.
Ben: That's the way it works now. You release an album and you have got to tour to support it.
John: It used to be you tour to support the album. Now it's like, you make an album to support your tour. Touring is the last front. That's the frontier you can't download. That's why you have to tour. That's why bands have to be better musicians.
Q: Yeah, the whole downloading issue, how does that affect a band like Black Stone Cherry?
John: We don't even care really.
Ben: It's hard to fight it, we can't fight it, so we might as well just go along with it. Lucky for us, we've always been known for our live performances.
John: If someone downloads a track and likes it, they'll probably come down to see us. We wish and hope that everybody at least pay for something that we've created, but…
Ben: I'd rather have ticket sales than album sales, because ticket sales will keep us going forever. We could stop putting out albums and still tour, like a lot of the classic rock bands do.
John: We just got a silver record the other day in England, for 60.000 units sold. So that's the marker for silver. We got one for 'Folklore and Superstition' and one for 'Between the Devil and the Deep Blue Sea'. I think in America, gold is still 500.000 and a million is platinum. In like 1995, if you had sold just a 100.000 records, you would have been dropped by your label. But like now, because people just don't buy that many albums…if we had come out in '95, we probably would have sold more records. But we've sold a nice amount, combined of all of our records you know.
Q: About the show. Last time I saw you here was with Alter Bridge, soon after that show you did a small headline show here as well, and now you're back for a full on headline show. How do you guys look on tonight's show?
John: It's going to be awesome.
Ben: Good! Each show, we don't like to gear our tours to a certain audience you know, like seeing it's a small club so we can kind of chill out a little bit, you know what I mean. We put on the same show regardless.
John: If it's just 20 people or 20.000…
Ben: They all deserve the same experience. So we just get up there and play and hope they'll like it! We try to make them feel part of the show and it's just fun you know.
Q: I've seen a few European festival dates on your schedule as well, but no Dutch or Belgium festivals yet. Any idea if you guys are playing any of those yet?
John: There probably will be, dates are just coming in. Probably in a month or so we'll know more.
Q: Any festivals that you'd like to play at?
John: Pinkpop would be cool.
Ben: Yeah. There a lot of them also that we don't even know about yet. So, if they book us we'll be there! I'm sure they're all great.
Q: So my last question. Do you have any message for your fans over here and for the readers of our magazine?
Ben: Definitely that we appreciate them very much for supporting us and we hope they will come to the show. We're coming back later this year for another tour so, hopefully we'll be back in Holland around this area. And we hope they'll like the album.
Wil je de band binnenkort nog graag live zien (wat zeker een aanrader is!)? Dat kan! Black Stone Cherry staat op zaterdag 7 juni in 013 in Tilburg! Kijk hier voor alle info over die show.