Geschreven door Jessica Santiago Lopez op 2014-10-13 18:48:16
Interviews :: Interview met Amaranthe
Amaranthe, een band waarvan de muziek beschreven wordt als een fusie van melodic death metal, eurodance, pop en industrial, komt 20 oktober met zijn derde plaat 'Massive Addictive'. De review van het album is hier te vinden. Metalkrant greep gelijk de kans om zanger Jake E. en zangeres Elize Ryd te interviewen. Zo weten we nu o.a. waarop het nummer "Drop Dead Cynical" gebaseerd is en veel meer!
Interview door Michelle Henriquez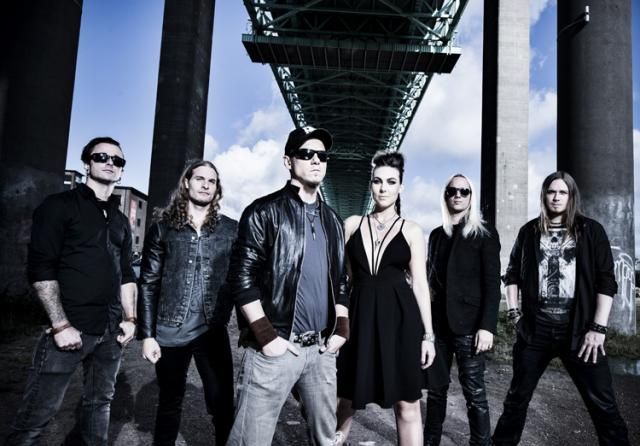 Q: Recently, Amaranthe released its newest single "Drop Dead Cynical", to promote the upcoming album 'Massive Addictive'. Can you tell us what the lyrical and musical idea behind the song "Drop Dead Cynical" is?
JAKE: The whole song is so cool in the way that the catchy-ness lies in the guitar riff instead of as what we usually do, when we put it in the chorus. The lyrical theme is about someone that is beyond cynical. I refer to Diogenes in the second verse. For those that don't know who he was, I'll tell you a short story here!
"Diogenes was relaxing in the sunlight in the morning. Alexander the Great, thrilled to meet the famous philosopher, asked if there was any favour he might do for him. Diogenes replied, "Yes, stand out of my sunlight". Alexander then declared, "If I were not Alexander, then I should wish to be Diogenes", to which Diogenes replied, "If I were not Diogenes, I should also wish to be Diogenes.
Q: How did you guys come up with the name 'Massive Addictive'? What was the reason to leave the suffix –ly out (Massive instead of Massively)?
JAKE: We like to play around with words. Same thing in "Drop Dread Cynical ", when we sing "Incapability" instead of unable or uncapable. We always get comments from people about that haha, like, you should have someone checking the lyrics before you send them in. But the fact is that I first got this idea from when In Flames released the 'Whoracle' album. 'Massive Addictive' is done in the same way! It can have different meanings depending on where you put the accentuation or punctuation!
Q: The new album 'Massive Addictive' has 12 songs. Can you tell us about the creative process and the time that went into the making of these songs?
JAKE: I can´t really remember when we started the creative process, but I think it was about six or seven months before we entered the studio. We had five or six songs more or less done in February and then we got help from our sponsors AVID, SENNHEISER AND STEINBERG which helped us set up a portable studio on the European tour. We wrote a couple of more songs on the road and the rest was finished and composed in the studio in Denmark.
Q: Your music has been tagged with a variety of genres – melodic death, pop, power metal, metalcore, Eurodance. How would you describe Amaranthe's music yourself?
JAKE: Me personally, I hate to put music in drawers so I have no idea! I call it music.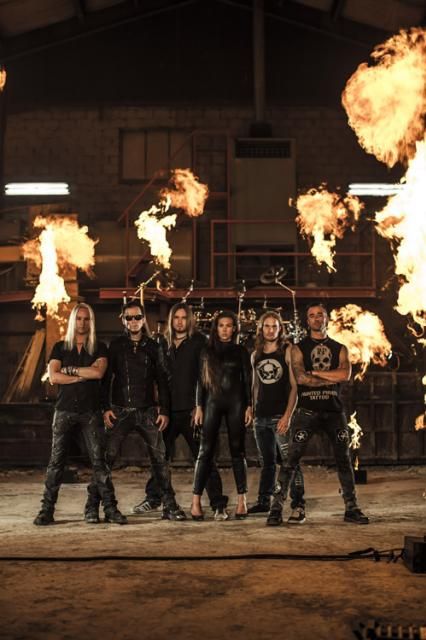 Q: Is there a consistent theme you guys write about in your lyrics on 'Massive Addictive'? What inspires you to write and which of you writes the lyrics of the songs?
JAKE: We have followed a theme on the first two albums, but on this album I focused on separate themes for each and every song. This album is very personal in many ways and it was actually a really hard album for me to put down in words. Olof and me are the ones behind the words, but it´s usually me that takes the responsibility to finish them up.
Q: For the newer fans, can you please explain what the name Amaranthe means and how you chose that name for the band?
Amaranthe means a lot of different things in different languages, but "never fading" is my favourite.
Q: Elize, the following 2 questions are directed to you as a singer of Amaranthe. You've previously toured with Kamelot as a backup singer and even sang with Nightwish once when they're ex-­‐singer left unexpectedly. How did these experiences influence you? What did you take from these experiences and how did they help you with your role in Amaranthe?
Elize: I've got an awesome routine of life as a touring artist and the experience to tour with bigger bands. I know how it should be when it's good and where I want Amaranthe.
Q: How do you generally experience being the only female musician in the band, and one of the few in this part of the music industry?
Elize: In general men want to be dominant and I have to fight harder to get my voice heard. But the industry is changing and I am involved in that change right now. I am very happy to be one among few role models for girls in this genre. What's mostly important for me is to make them inspired and proud.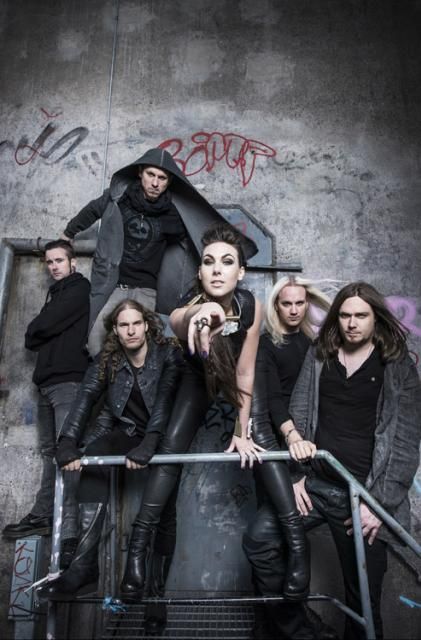 Q: What are your fans typically like? Do you spend a lot of time meeting with them in person? What kind of feedback do they give you?
JAKE: Our fans can only be described in one way! THE BEST. We have fans of all different ages coming to our shows and they are so fucking sweet. We try to meet them after the shows as much as we can.
Q: What is next in your plans, after releasing this new single and the record?
Jake: we´re touring right now through the US, together with Within Temptation. After that we fly to Tokyo, then Mexico City and then back to the States for a headline tour before we head home in November. After that it´s some festivals in Europe, some one-off shows and then Christmas. We will do the European leg of the tour in February/March and then we will do the rest of the world and probably another run in the States and Japan.
Q: When can we expect you to tour in The Netherlands?
Jake: I hope that Within Temptation will invite us to come by for a show in the future. That would be amazing, but if not we will see you on the European tour for sure!
Q: Is there a message you want to leave for our readers of Metalkrant Webzine?
JAKE: Thanks for all your support and I hope to see you on the road soon!
Links: